This article was originally written and featured on "The Next Web". Link to original article.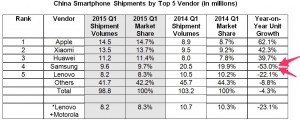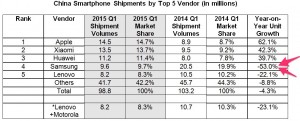 In Q1 2015, Apple saw a unit shipment growth of 62 percent off the back of strong iPhone 6 sales, while Samsung's growth actually shrank, slashed by 53 percent compared with 2014.
Other handset builders, like Xiaomi and Huawei, saw growth of 42 and 39 percent respectively.
The slump in shipments of Samsung devices could be attributed to the quarter leading up to the announcement of the Galaxy S6, however such a sizable drop is not the norm.
IDC also noted that the Chinese smartphone market shrank for the first time last quarter by 8 percent as the market is now "saturated" with devices.